A conversation with Enactus President & CEO Robyn S. Fehrman
By Sarah B. Smith
Robyn Fehrman is a global executive whose mission is to grow and scale impact enterprises to achieve positive systemic change. Known for her ability to lead organizations and teams with values at the center, her experience over nearly 25 years spans the social entrepreneurship, education, philanthropy, economic development, and global health sectors. Robyn is currently President and CEO of Enactus, a global network of leaders committed to using business as a catalyst for positive social and environmental impact. Across more than 33 countries, Enactus educates entrepreneurial young people and accelerates their innovations to solve the world's biggest problems and achieve the United Nations' Global Goals.
How has your career led to the development of social entrepreneurs?
For the last 25 years, I have worked at the intersection of social innovation, leadership development, and social and environmental impact.
The roles that I have been in have all been at the nexus of building, developing, and catalyzing people to be levers for positive change in the world.
I started my career working for my local community in the area of reproductive health and rights.
That initiated my interest in working on the challenge of how to develop the leadership of adolescents to be educators in their communities to reduce and prevent adolescent pregnancy. From there, each of my roles has really been about that piece of leadership development: building the people that we need to make real change.
In 2021, I became President and CEO of Enactus. Prior to that, I was the Managing Director of the Center for Advancement of Social Entrepreneurship at Duke University's Fuqua School of Business, teaching and supporting MBA students and impact enterprise leaders around the world.
Before my time at Duke, I served as Executive Director of Teach for America – Eastern North Carolina – the area of North Carolina where I grew up. I was responsible for scaling the impact of Teach for America in our state and radically growing our reach. Like the work I did early in my career, both of these more recent roles required creative solutions for identifying and supporting leaders to have both an immediate and long-term positive impact on the world.
What is exceptional about social entrepreneurship?
A social entrepreneur has both revenue and impact goals, and they are constantly working to balance those two priorities. Of course, social enterprises must be financially sustainable; however, their ultimate objective is not simply profit maximization, but truly high impact change across the social and environmental spectrum. A focus on and orientation toward positive social and environmental impact differentiates social entrepreneurship from traditional entrepreneurship.
Is a social entrepreneurial mindset innate or something that can be cultivated?
I think the answer is "both." It can be grown in an individual over time. I would not be an educator if I did not believe that people can grow and change with added information and new experiences. I also think, however, that the people who are closest to social and environmental challenges often have a predisposition to success as social entrepreneurs because they have been more profoundly affected by them. Proximity can be a critical source of innovation.
What are necessary skills for social entrepreneurs?
You must be a strong business leader: able to set vision and invest in others in it; operate, plan and execute at a high level; understand financial nuance; and excel in managing through layers. These are critical and foundational skills.
But, social entrepreneurs need to have an added skill set: diverse stakeholder engagement. A social entrepreneur also needs to define who their stakeholders are. Because they are focused on impact, social entrepreneurs will serve more diverse stakeholders than someone focused solely on profit maximization.
Social entrepreneurs also need to be dedicated to serving customers and beneficiaries – who may be the same or different sets of stakeholders. In a social enterprise context, the payer of a particular good or service may actually be different from the beneficiary. A social entrepreneur needs to have a clear sense of who is the beneficiary of the initiative, product, or service that they are putting into the world. Is the beneficiary the customer, or is the beneficiary different from the person paying for the good or service?
Additionally, a social entrepreneur certainly must have the skills to monitor and evaluate progress toward their chosen social or environmental impact indicators in addition to managing financial KPIs.
Measuring impact can be complex and nuanced, and they must be skilled in doing that in their particular impact sector.
You spoke earlier about proximity to a problem being an influential factor on a social entrepreneurial mindset. If a social entrepreneur has limited resources, what support can help them grow, develop skills, make their voice heard, and allow innovation to thrive?
First, it is important to understand that people who have lived experience with social and environmental challenges already have skills and assets that inform problem solving. It is our job as educators to help uncover and amplify those skills and, of course, to help build new ones. As people cultivating social entrepreneurs, we often need to reorient ourselves to identify our students' lived experiences as assets.
At Enactus, we believe that experiential education is the key to building those skills.
By using an experiential education approach where students can really learn by doing, we can equalize the playing field among students – those who have resources in abundance and those who do not. Creating equitable access to the information needed for skills building is important, and it is something we are doing at Enactus.
We are working to digitize our global curriculum and make it accessible not just on a computer but as a mobile-enabled learning management system. We know that most of our students, regardless of where they are in the world, have access to mobile technology. We think a lot about how the experiential education approach puts everyone on the same playing field and how we increase access to the information we are trying to share.
As educators, we are also innovators for social impact.
Entrepreneurs come from all walks of life. What specific value do women entrepreneurs have, and why does the world need more women in these leadership roles?
As I said earlier, proximity is a critical source of innovation, and because of the realities of sexism around the world, women are often disproportionately impacted by social and
environmental challenges. Because they are uniquely affected, their lived experience gives them distinct insight into how to solve the problems they face.
Innovation requires creativity. How important is creativity for a social entrepreneur?
You know, creativity is a critical competency for any entrepreneur and particularly a social entrepreneur. Creativity, for me, is the ability to think and do differently and to see things through a new lens. A creative person can bring an idea from one sector and see if it applies to another sector; that is what is required of social entrepreneurs. Any entrepreneur is an innovator, but a social entrepreneur is working to solve wicked problems that have not been solved. Making progress on those wicked problems requires novel approaches. You must move out of traditional silos and take vastly different approaches. That is exactly what creative people do.
In the strictest sense, an entrepreneur is someone who develops a business, but based on our conversation, you view entrepreneurship in a broader context. Do you see yourself as an entrepreneur?
I do see myself in that role. The world needs more people to have an entrepreneurial mindset and skills that they can then deploy in whatever role, function, or sector they are working. So, we need people who can bring innovation and creativity to problem solving. They need to use "design thinking" to talk with potential beneficiaries and customers to figure out the best solutions.
They need to be able to prototype solutions and test them to see if they can apply new business models to deploy solutions in sustainable ways.
All of that is entrepreneurial thinking, and it is important not just for founders of new entrepreneurial ventures, but also for people working in large established corporations. It is also important for people who are leading nonprofits and non-governmental organizations, for educators in a classroom, and for government leaders.
Creative entrepreneurial thinking is how we, collectively, are going to get better faster.
How have you used social entrepreneurship to transform Enactus?
What I think is so amazing about Enactus is that long before notions of business for good or corporate social responsibility were sexy and mainstream, Enactus was teaching young leaders how to use business to create a better world. In so many ways, the organization has been out front and leading on this issue long before we had the words to describe social entrepreneurship.
As the leader of a 46-year-old organization, my orientation has very much been how do we honor the incredible legacy of this company, and how do we appreciate all that has gone into creating who we are today, while also knowing that as a leader in business, we must continue to evolve to meet the moment. The challenge for me is how do we honor the incredible history of our organization and not remain static? The questions always on my mind and that have really guided so much of my work are: Who does Enactus need to be given the moment in the world that we are facing now? What problem do we exist to solve right now?
As CEO, it is important to ensure that our organization is also honoring our staff by recognizing and appreciating the incredible work that they do every day. Ensuring that they are respected, are compensated and that we share information transparently with them. We must show up as humans and authentic leaders who have full lives both in and outside of work.
I have also worked to support our board, staff, and network of country leaders with a deep belief and understanding that we are an educational organization that exists to serve students. Students must be at the center of everything we do; they are our direct beneficiaries. They are the reason we exist and the ones we serve. My leadership has really been continuing to focus on how we get up every day to serve them.
What do you want for yourself and for women leaders of the world?
All people crave purpose. Everyone wants their life to matter. And so I think a lot about all leaders, not just women.
How do we clarify our purpose and keep that purpose at the center of the work we do? It is that purpose that keeps us going when the minutia takes over, when the days are hard, and when we feel like we are facing setbacks. So, it is critical for all leaders to be clear on their purpose and values. You keep purpose and values as touchstones when you must make tough decisions. We also have a responsibility to help cultivate the next generation's ability to define their own purpose and find ways to deploy their purpose personally and professionally.
In my own leadership, I recognize and appreciate that we are whole people. Just because I sit in the CEO seat does not mean that I do not come to business conversations without also thinking about what I am feeding my kids for dinner, or if I had an argument with my spouse, or when I must pay that bill, or how I am caring for aging parents. I have all of that in my own life, and I want to be able to bring my whole self to my leadership. I also want the people that I work with to know that they can show up as their whole selves in their work. As our company moves forward, we continue to model to the world how we show up as whole people to serve our broader mission with purpose and value.
About Robyn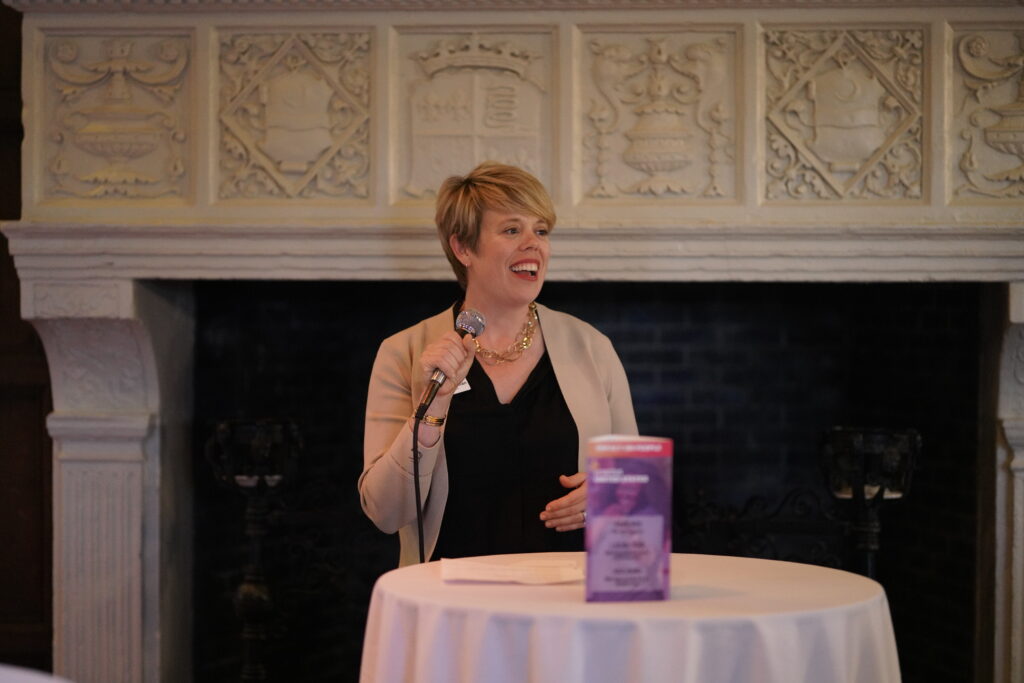 Robyn Fehrman's mission is to grow and scale enterprises to achieve effective systemic change. She is President & CEO of Enactus, a global network of leaders who educate, inspire, and support young people to use innovation and entrepreneurship for positive social and environmental impact.