By Sarah Pribis
I've been pursuing a career as an actor (yes, "actor" – the term is gender neutral) since I was 18 years old. At age 16 I had a performance on Broadway, but I hadn't yet decided that performing was an actual JOB I was going to pursue.
When my parents dropped me off at my dorm room in New York City to study at Tisch School of the Arts, I soon discovered that I was one of many aspiring thespians. It became apparent that one of the things that was going to help me survive (and thrive!) in this cutthroat industry was an entrepreneurial work ethic and drive. After 18 years, dozens of side hustles, countless mistakes, and several "I think I should quit" declarations, I can finally say that I have a "working actor" business at age 36.
While there is not one recipe for success in this industry, I can tell you some ingredients that I've personally found to be quite crucial:
Self motivation
Perseverance and patience
Humility
The willingness to take risks and fail
Time management
Competitive spirit
Networking abilities
Self awareness and branding
Sales and marketing skills
Oh! And a dash of talent and creativity, too.
According to The Guardian, only 2% of actors make a living from the acting profession, and 90% of them are out of work at any given time. The key to becoming part of the 2% is to treat yourself and your art like a business.
On the surface, being an actor sounds straightforward enough, right? Take classes, build your portfolio, get an agent, learn your lines, go to auditions, impress the casting director, and book the role. This is a huge oversimplification of the process, so let's break it down step by step, as a business:
Startup and investment costs
These aren't cheap! Perhaps you begin by getting a drama degree like I did. Or perhaps you opt for improv or scene study classes.
Then you might decide to build out the special skills portion of your resume by hiring a dialect coach, learning martial arts, or taking horseback riding classes! None of these is a requirement, but the goal here is to make yourself as marketable as possible in order to stand out from a sea of talent. Headshots, however, are a requirement, and can easily set you back a couple hundred dollars. Then it's time for an agent, but alas, the agent doesn't want to represent you without a body of work – but you can't get the body of work without the agent!
Enter casting-focused websites, and yet another set of fees. You will pay to upload your headshot, see the job listings, and submit for roles. These are likely not the roles you've dreamt of since you were a child. They're student and short films for little to no pay, background roles, or $200 infomercials. Apply for them anyway! They will give you footage, experience on set, and a network of people on the same path as you. However, these opportunities aren't going to pay the bills, so while you're pursuing a career in the arts, you work another job in a field that gives you enough flexibility to audition and book out at a moment's notice.
Let's fast forward to "sales and marketing."
You've now accumulated enough material to stitch together a performance reel.
Sure, you could pay someone else to do this for you, but quite frankly, every actor in 2023 must also possess some level of basic editing skills in order to self tape and send in auditions (more on this in a minute). Along with your reel, you're going to email your headshot and resume to prospective agents. Here is where additional entrepreneurial skills come back into play: research, development, strategy, and outreach are essential.
You must compile a list of companies and individuals who have the kind of roster you aspire to be among.
You must investigate and obtain the contact information so that you can reach out to them.
You must properly pitch yourself so that your email is opened and considered.
I've experienced sending 50 "cold" emails and not receiving evenone response (and that's with movie credits, roles on the CW and USA networks, national commercials, and 100k+ social media followers to my name). So while you pound the pavement– I mean keyboard– you start asking your network for referrals. Remember when you were on set making little to no money, but you were gathering footage and friends? Relationships in this business are critically important: you can't be afraid to call in favors, and you also must be willing to pay them forward. Kindness is queen. Let go of that limiting belief that there's not enough to go around, and share your knowledge and your resources. It'll be returned tenfold, I promise.
"Deal closed?"
BOOM. You got an agent. Congrats! You likely have access to bigger and better auditions now, but the hustle continues. It's time to level up and invest again… in self-tape equipment! These days, the majority of auditions are recorded by actors in their own homes. To stay competitive, it's imperative to research lights, microphones, tripods, backdrops, and cameras or smartphones to set up your own little home studio. Although this sounds daunting, you can find videos on the internet that will guide you on how to get a professional setup at an affordable price. In addition to becoming your own set designer, lighting and sound technician, and camera operator, you also take on the responsibility of:
Casting (a friend to read the other lines)
Hair and makeup artist
Wardrobe designer
Director/DP
Editor
Writer (if you're asked to "improvise" a script)
It once was enough to "just" be an actor, but it certainly isn't anymore, and even if you have the equipment and the agent, it's still not enough. Based on my numbers from the past five years, if I relied solely on these two things, I would be making $20,000 per year. So how have I created a six-figure working actor business? The same way that many entrepreneurs do: multiple streams of income.
Not only do I continue to submit myself for jobs on casting websites every day instead of relying on my agent(s), but I also utilize social media marketing to sell my services as an actor, creator, writer, editor, producer… all the jobs I learned along the way! Remember the self-tape equipment? I use it to make content: TikToks, films, branded videos, etc. I shoot instructional videos for corporate websites and Youtube channels, and I continue to grow.
So if this pursuit is of interest to you, I recommend that you capitalize on your unique skills, talents, and expertise, and that you share your wealth of knowledge along the way. Before you know it, you'll see that you have the characteristics of a successful entrepreneur– but you aren't just a businesswoman at this point; you're a business, woman!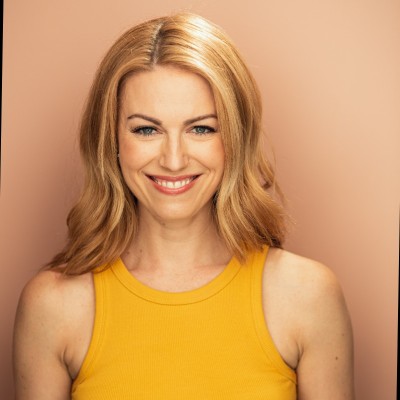 Sarah Pribis is an actress, producer, writer, and host who trained at NYU's Tisch School of the Arts, and made her Broadway debut in Les Miserables. She is the host of the viral mobile app, HQ Trivia.